The Ellie Herman Springboard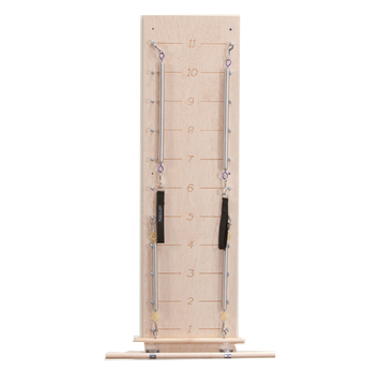 The Ellie Herman Springboard
Designed by master teacher Ellie Herman, our very popular Pilates Springboard is an affordable, space-saving piece of Pilates equipment that provides an invigorating full-body workout. The Springboard bolts to the wall, so it doesn't take up floor space. This makes it perfect for an extra room, a home gym, garage, attic, or basement. If you own a Pilates studio or fitness facility, you can mount several Springboards along a wall and offer group equipment classes.
Pilates Springboard Includes:
Springboard of maple-faced high quality laminate, 20"w x 72"h (51cm x 183cm).

Easy-to-use engraved measurements and 22 spring attachment points.

Balanced Body Signature Springs™ with snaps. Regular: 2 yellow. Long: 2 purple.

Maple roll-down bar, 2 cotton loops and 2 Neoprene handles.

Maple dowel footbar, attached to bottom of Springboard.

Hardware for attaching the Springboard to studs with standard 16" spacing.
Optional Springboard Push-Through Bar
You asked for it, and here it is! Enjoy more versatility by adding a push through bar to your Springboard! Now you can increase your options to perform even more Trapeze Table exercises!
The anodized aluminum bar quickly and easily attaches to your existing Springboard (mount brackets and hardware included). You don't need to remove, change, or alter your installed Springboard in order to install the push-through bar.
Push-Through Bar Kit includes two each of either red (medium) or blue (light) springs. Safety strap also included.
The Springboard is ground shipped by FedEx for a flat rate of $99. There are no local pickups for this item. Once the order is placed, you will be contacted with FedEx tracking and delivery information.